Going Green
In order to reduce the impact of our activities on the environment and to fully assume our social responsibility and our role as a good corporate citizen, we have initiated, over the past few years, a green shift in order to make our seven establishments eco-responsible.
As part of this shift, in addition to placing the respect for the environment at the forefront of our business activities, several actions and initiatives have been undertaken to contribute to the fight against climate change and minimize the ecological footprint of JARO Hotels.
You will see below, what JARO Hotels has already achieved, what you can do to help the environment during your stay with us and the actions we foresee for the future: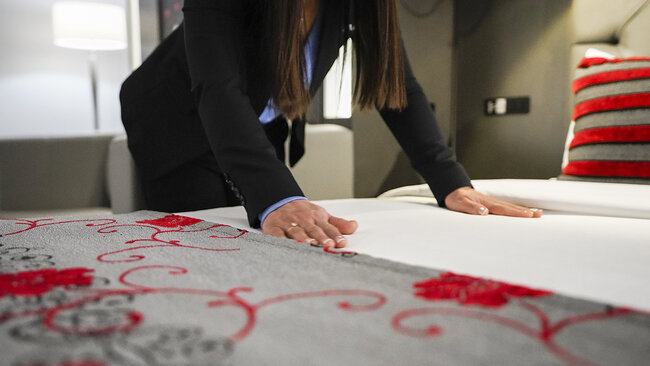 Hôtels JARO's environmental Actions
Installation of faucet aerators, thereby reducing water consumption from 30% to 80%;
Installation of energy-efficient light bulbs to replace incandescent bulbs;
Installation of a heat recovery unit to reuse air and reduce energy losses;
Installation of recycling bins in all rooms;
Installation of timers in laundry rooms to reduce energy loss;
Installation of soap and shampoo dispensers in all rooms to reduce the use of plastic packaging;
Installation of low-flow toilets and shower heads;
Introduction of ECOPRODUCTS coffee cups that are 100% biodegradable and certified COMPOST by BPI;
Invitation to reuse towels during the stay;
Recycling of cardboard, paper, glass and plastic with the use of a compactor;
Recycling and reuse of various furniture;
Reduction of the number of sheet changes during a stay;
Setting thermostats at 19 °C in summer and 22 °C in winter;
Reuse of room keys and their covers;
Educating housekeeping staff to ensure that lights and electronics are turned off after guests leave, and that curtains are closed in vacant rooms to limit air conditioning use;
Use of timers for outdoor lighting and readjustment of hours according to the season;
Use of biodegradable, non-toxic and ecological cleaning products.
*Note that these actions may vary depending on the hotel of your stay and the available equipment.

Addition of a "green component" to the executive board's monthly meeting agenda;
100% battery recycling;
Reduced our daily paper consumption by encouraging electronic documents and by recycling scrap paper into notepads;
Regulation of printers in double-sided mode to promote paper savings.
Elimination of paper tablecloths;
Quantity management improvements to reduce waste and residual materials;
Use of bulk products to limit losses related to individual portions;
Prioritization of reusable dishes.

Elimination of aerosols;
Recycling of computer, electronic, fluorescent and toxic products (paint, chlorofluorocarbon, batteries and dangerous products);
Recycling and reuse of materials used during renovations within the facility (metal, wood, etc.);
Reducing the volume of water used for cleaning;
Reuse, internally, of the rooms' unused toilet paper;
Selective sorting and recycling of raw materials during major renovations within the establishments;
Use of ecological gardening products;
Implementation of an internal audit to control and prevent any incident that could have an environmental impact (heating system, elevator, etc.);
Implementation of a regular cleaning plan for light fixtures, air grills, ventilation systems, etc., in the rooms to limit energy losses.
Help Us Help the Environment!
As a guest, you too can contribute to improving the ecological performance of JARO Hotels by taking small "green actions" during your stay:
Turn off electronics and lights when leaving the room;
Close the room curtains to reduce the use of air conditioning;
Sort your waste to optimize the use of recycling bins;
Reuse bath towels.

Increase the volume of selective sorting at the source by 30–50%;
Establish an energy expenditure control plan;
Reduce food waste by 10%;
Reduce the amount of waste;
Reduce the waste of drinking water;
Reduce paper printing by 20–30%;
Reduce energy losses related to heating, cooling and ventilation systems;
Keep informed of technological advances and new green products that can reduce the establishments' environmental footprint and invest accordingly if need be.