The summer holidays are just around the corner, but it is not too late to enjoy our planner's discount. By bookingThis link will open in a new window your stay at JARO Hotels at least 30 days in advance, you will get a 10% discount on your reservation!
Even if JARO Hotels are irresistible attractions themselves, they are nevertheless evidently not the only places to visit in Quebec City. Rich in history, culture and nature, our city abounds with fascinating tourist attractions that will no doubt charm you.
Our many unbeatable packages will allow you to combine lodging and tourism at the touch of a button.
MONTMORENCY FALLS PACKAGE
Located only a few minutes away from downtown Quebec City, the Montmorency Fall is one of the province's most visited attractions! If you are an outdoors and hiking enthusiast, this package is for you. Between May 15th and November 5th, your reservationThis link will open in a new window will include the access fees to the Parc de la Chute-Montmorency, parking and an unlimited access to the cable car. Don't miss the chance to visit this must-see sight and admire all its angles, on foot, by bike or suspended in the air!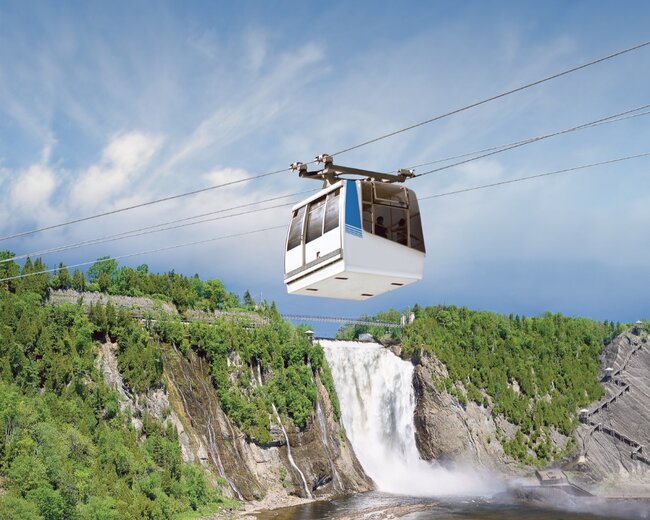 Smiles from ear to ear
The school year is done, it's time for fun!
L'Hôtel Québec is Quebec City's top family-vacation destination. Find yourself lying around a turquoise swimming pool surrounded by a hot and humid tropical garden, no matter the weather! Children will be crazy about the water games, the seven-story playground and all the exciting and dynamic activities organized by the hotel. And as if that wasn't enough, on all the beautiful summer days, the outdoor park of L'Hôtel Québec will be overflowing with huge inflatable games where children can play and have a blast. Fun guaranteed!